Pupil Premium
Report April 2018- 19
At the heart of Pupil Premium Grant (PPG) funding is the aspiration to support disadvantaged pupils and reduce the achievement gap between them and their peers. All our work through pupil premium is aimed at accelerating progress through successful intervention strategies implemented by experienced and trained members of staff, moving children to at least age related expectations. Initially this is in English and Maths.
The pupil premium is allocated to schools with pupils on roll who are:
a) eligible for free school meals (FSM) or have been at any time in the past 6 years
b) looked after (LAC) by the local authority continuously for more than six months
c) Service families
All members of staff and the governing body accept responsibility for 'socially disadvantaged' pupils and are committed to meeting their pastoral, social and academic needs within a caring and nurturing environment. We hope that each child will develop a love for learning and acquire skills and abilities commensurate with fulfilling their potential and as an adult finding employment.
The DFE states that is up to the individual school to decided how to spend this money to best benefit the individual children. The aim of the school is that all pupils should make good progress and that those receiving Pupil Premium should make at least as good progress - or if not better than others in the school. It is for schools to decide how the Pupil Premium, allocated to schools, is spent, since they are best placed to assess what additional provision should be made for the individual pupils, who they have responsibility for. However, they will be accountable for how they have used the additional funding to support pupils.
At Frittenden CE Primary School we currently use the additional funding in the following ways:
To provide short‐term intervention programmes for underachieving pupils and those with SEN.
To resource intervention programmes in terms of materials and staff.
To support the provision of one to one tuition for some pupils.
To support any additional training needs for staff supporting children receiving Pupil Premium.
To ensure that all pupils can take part in educational visits.
To ensure that all pupils can access a wide variety of extra-curricular activities.
To provide emergency transport in order to improve attendance and support achievement.
To pay for school meals for new entrants to the school until free school meals have been authorised.
Key Strategies in supporting children eligible for Pupil Premium Funding: In order to be highly successful in improving achievement for the children eligible for pupil premium, the staff at Frittenden CEP School:
Carefully ring fence the funding so that it is always spent on the targeted group of pupils.
Never confuse eligibility for the Pupil Premium with low ability, and focus on supporting our disadvantaged pupils to achieve the highest levels.
Thoroughly analyse which pupils were underachieving, particularly in English and Mathematics, and why.
Draw on research evidence (such as the Sutton Trust Toolkit) and evidence from our own and others' experiences to allocate the funding to the activities that were most likely to have significant impact on improving achievement.
Are very clear about the importance of ensuring that all day-to-day teaching meets the needs of each learner, rather than relying on interventions to compensate for teaching that is less than good. Quality First Teaching is paramount.
Allocate their best teachers to teach intervention groups to improve Mathematics and English
Use achievement data frequently to check whether interventions or strategies are working and make adjustments accordingly, rather than using the data retrospectively to see if something has worked.
Make sure that support staff, particularly teaching assistants, are highly trained and understand their role in helping pupils to achieve.
Systematically focus on giving pupils clear, useful feedback about their work, and ways that they could improve it. (AFL)
Ensure that the Senior Leadership Team has a clear overview of how the funding is being allocated and the difference it is making to the outcomes for pupils.
Ensure that class and subject teachers know which pupils are eligible for the Pupil Premium so that they can take responsibility for accelerating their progress. This also applies to teaching assistants.
Have a clear policy on spending the Pupil Premium, agreed by governors and publicised on our website.
Provide well-targeted support to improve attendance
Have a clear and robust appraisal system for all staff, and include discussions about pupils eligible for the Pupil Premium in appraisal and pupil progress meetings (PPM).
Are able, through careful monitoring and evaluation, to demonstrate the impact of each aspect of their spending on the outcomes for pupils.
Ensure that children know exactly what it is that they need to improve
Ensure that a broad and enriched curriculum is provided and support is given so that all pupils have access to educational experiences such as: residential courses, sporting events and after school clubs run by outside agencies
Provide Pupil Premium Conferencing to challenge pupils and set aspirational targets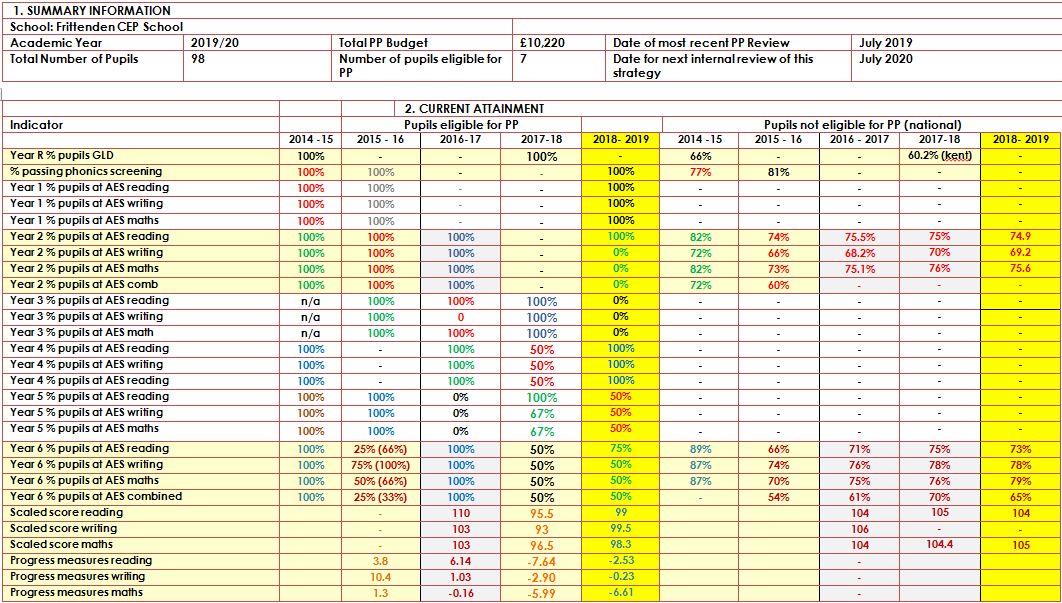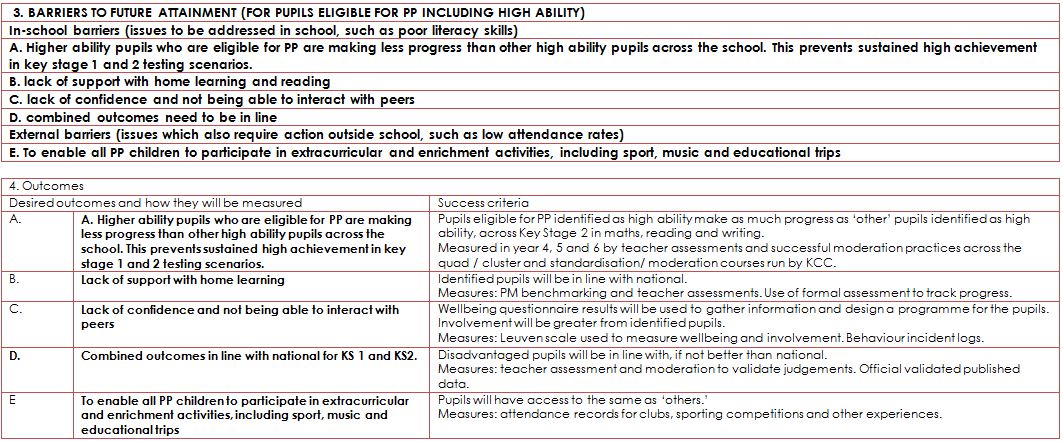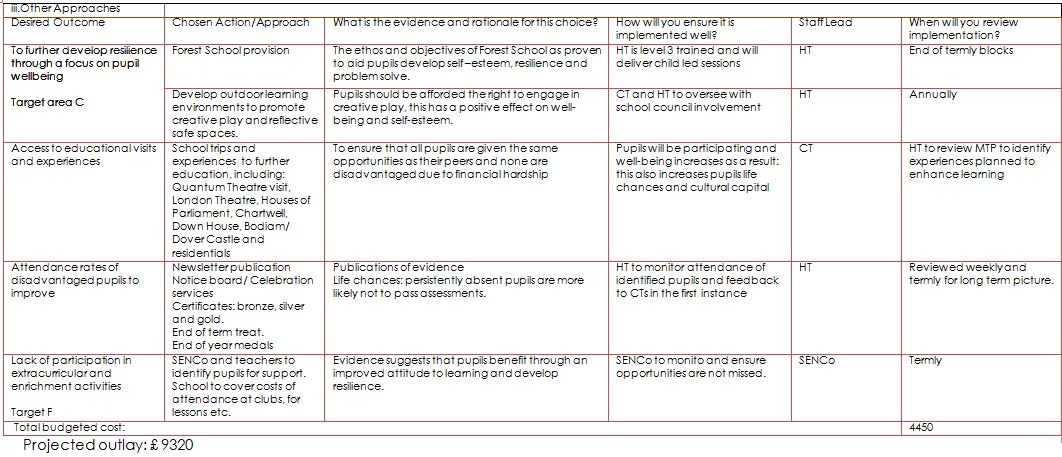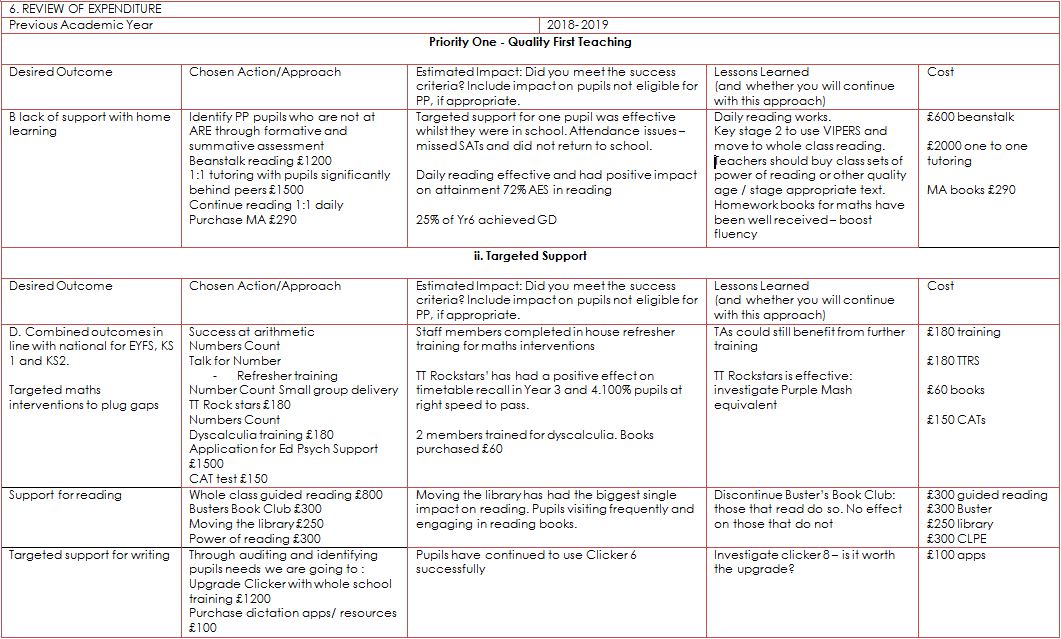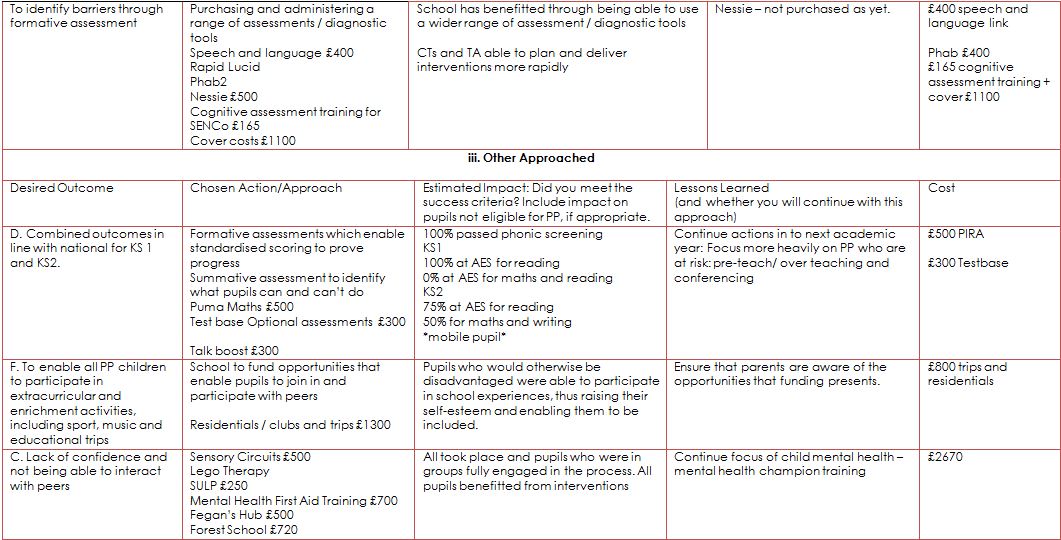 For more information speak to Mrs Kneller or Ms Costello.
Should you wish to look at Pupil Premium funding use this link:
https://www.gov.uk/guidance/pupil-premium-information-for-schools-and-alternative-provision-settings
If you would like to find out more about who is eligible for free school meals, please contact the school office.